Given the reluctance to return to the office due to COVID-19, I spearheaded a collaboration with FormulaMED, a health and wellness firm to develop a more holistic return to work solution.
I worked cross-functionally to develop the concept and marketing materials, as well as reached out to media to garner PR exposure.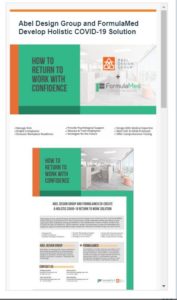 HOUSTON, TX – August 5, 2020 – Abel Design Group, award-winning commercial interior design and architecture firm, and FormulaMed, health advocacy and wellness firm, have joined forces to help companies quickly and safely resume operations with confidence among the workforce. The collaboration creates a holistic solution that includes the best of healthcare, mental wellness, design, and education to meet the immediate and long-term needs of commercial office, hotel, restaurant, industrial, manufacturing, and retail clients.
"The collaboration with FormulaMed helps us deliver a medically and psychologically backed approach to design," stated Jeffrey Abel, Managing Principal, Abel Design Group. "Adding a layer of expertise on infectious disease and its effects, through our collaboration with Formula Med, is a win for our clients, their families, and our community."
Integrated service offerings span the gamut from assessing and reimagining existing workplace readiness to cost benefit analysis of future leasing agreements.View the brochure of comprehensive services (pdf).
"Helping employees return to work with confidence requires leadership and commitment. We are excited to work with the talented team at Abel Design Group to provide the resources and support for employers as they go through the process of workplace reintroduction," stated Jarred King, Partner, Formula Med.
About FormulaMed
FormulaMed is a health advocacy and wellness firm that is dedicated to improving the lives of patients through healthcare, mental fitness, and education. As part of our efforts to support businesses impacted by COVID-19, FormulaMed is working directly with management teams to institute a safe and effective workforce reintroduction program to ignite companies back into production through client customized programs leading to sustained workforce productivity.
About Abel Design Group
With offices in Houston (HQ), Austin, and Denver, Abel Design Group (ADG) is an award-winning, mid-size commercial architecture and interior design firm, licensed in several states. Services include architecture, corporate office design, hotel design, restaurant design, and retail design.